To catch a quick glimpse of whats been going on inside
Phobic Nest
You can always pop on here to have a quick read.
Remember~ If you'd like to read more of what goes on, and view the entire forum
all you have to do is sign in, Or indeed, join up!
In this months issue we have:
A helpful Letter for anyone suffering from anxiety related issues!

Creativity by Cloudwalking.

An Achievement by Carol, including feedback from her friends at The Nest.

Creativity by Miss Moose.

A cute "Medical Test" that everyone should enjoy taking!

Link Of The Month - posted by BBM

Gloomys Recipe Of The Month!
Helpful Letter:
This letter is taken from the book - How To help your loved one out of agoraphobia.
Its very useful if a sufferer ever needs to tell someone about their condition but cant find the right words to do so. Obviously you can change words to suit you and your needs.
There are many situations that people challenged with anxiety and agoraphobia have to face that might be made easier if other people, such as doctors, dentists, restaurant owners etc. we're aware of our dilemma. The "Dear Person Letter" is a tool you can use (you can alter it to fit your personal needs and/ or preferences) to let others know about your situation and apprehensions in the hope that they will work with you to help you accomplish certain tasks. The letter may go something like this:
"Dear __________(Dentist, etc, etc, etc)________________________

I would like to take this opportunity to tell you something about myself. I have an anxiety disorder known as Agoraphobia. It is a challenge that even in this day and age, not too many people know much about. It is type of "nervous" condition that often causes panic attacks.
Although 1 in 100 persons are challenged with Agoraphobia, few people have a true understanding of the condition. It is sometimes embarrassing for me to talk about it, but it is very important to me that you are aware of it, hence this letter.
Agoraphobia is similar to claustrophobia, except that panic attacks are triggered by many causes such as crowds, distance from home, dentists, bridges, bright lights and loud noises. I can neither anticipate nor control these attacks. Therefore I often avoid situations which might arouse this extremely uncomfortable, sometimes terrifying, and always embarrassing reaction.
I am seeking help for this problem and am making progress, but I still have some reactions. At this point I have made some progress and want to make even more, but I still need a way out of situations that are frightening to me. I have found that often when I feel I have permission to leave an uncomfortable situation and know people will understand, I can do better.

It is extremely important to me to feel free to leave any given situation at any time, no matter how innocuous the situation may appear. I don't ask that you understand my condition, but I would appreciate your understanding of my predicament. (You can fill in here what your specific needs are in the situation.--.i.e. to come to the office several times before the actual appointment to familiarize yourself with it etc..)
In telling you this I an not soliciting your sympathy, but I would like your moral support as I work toward recovery. I realize that the way I confront the problem may be confusing and even seem inappropriate. Be assured I desperately tried other ways, but am convinced the approach I am using now is the only one that will work. By your acceptance you will be working with me.

Thank you very much for your cooperation,
(sign your name here)"

I took some pics of how to make aromatherapy oils to help evoke "calmness" in ones mind...and also some pics of a bottle of anti panic smelling salts .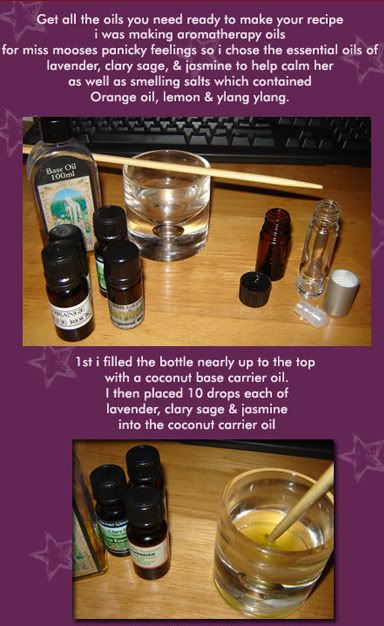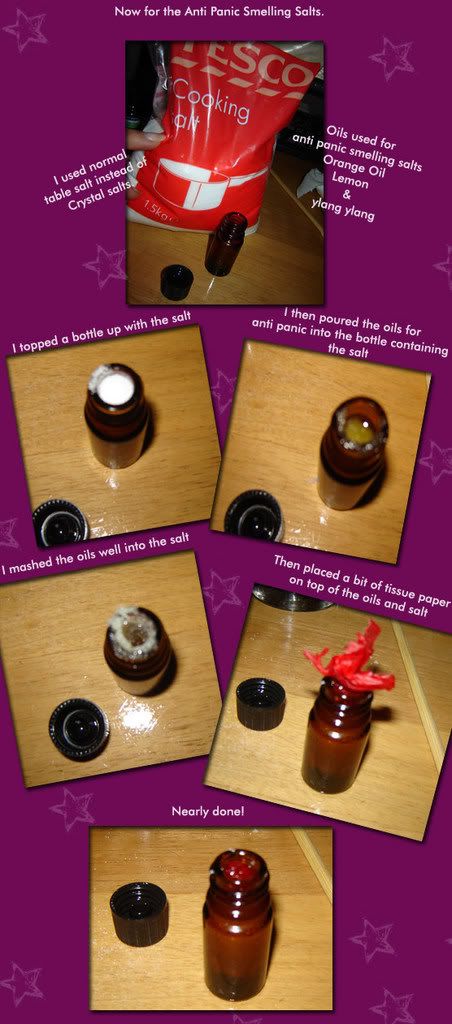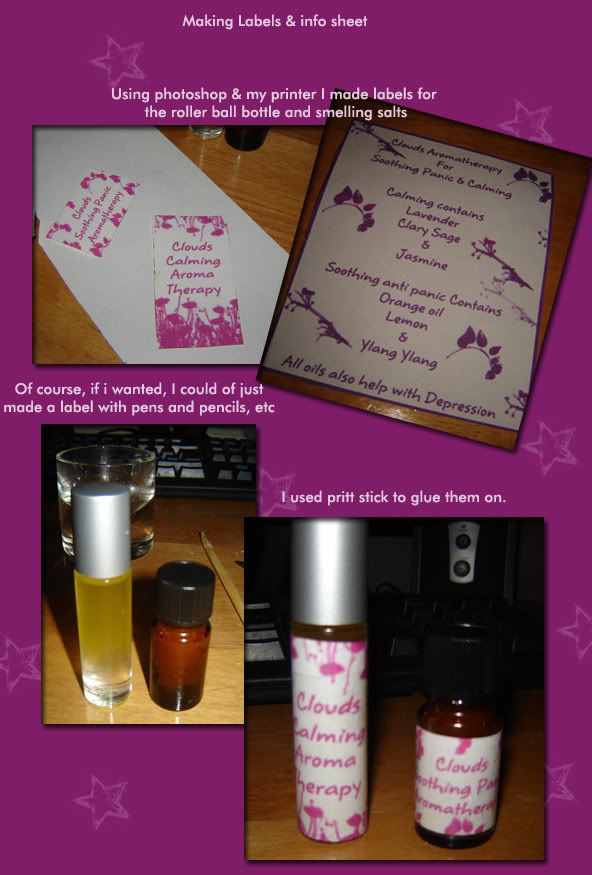 Carol's Achievement & some replies from her friends at The Nest.
Carol did just achieve this once, but twice, and who knows how many more times!
I did It! ~Posted: Thu Feb 08, 2007 12:37 am
Okay so since I developed the panic disorder I have not been able to pick up Jade from school especially by myself. this has been going on for a year and a half now. The problem is I am in a long line of cars that are not moving very fast at all and I start to feel very panicy because the thoughts racing through my head are what if something happens to me (panic attack for example) I am trapped here. I guess it is close to claustrophobia. Anyways due to this my mother-in-law has been the main person to drop and pick Jade up from school. Well due to circumstances ( Jeremy's Granny has been very sick and mom has been staying at her house this week) I had no choice, either take her or keep her out of school for the week , Well Jade was sick Monday & tuesday but felt better today and wanted to go to school. SOOOOOO I DID IT and all by myself too!!! and with minimal panic. I am pretty pleased with myself right now I am not naive enough to think I can do it all the time now with no panic but it's a start. XXX's Carol P.s It also tickled Jade to have Mommy to pick her up!
Replies:
Wow I am so proud of you I know about being trapped thing, I get that bad if I get stuck by a train. But to do it with minimal panic is great I hope you will be able to continue doing it and maybe feel comfy doing that so you don't have attacks at all :S Heres wishing:S Good going!
YEAH! CAROL!!!!!!! GREAT!!!!!!!
You know IF you do ever panic---just pretend the car is stuck until it passes & let them just have to go around you---don't worry! I think it's great that you were able to!!!! I bet Jade was real happy!!! hugs, Colleen
that's brilliant carol, really well done to you. You should feel so proud of yourself right now for taking the fear by it's balls and throwing it away. Use this mentally as a signpost of what you can achieve, and know that even though you might not be able to do it all the time, there are times when you can and will be able to do it. Now you have evidence to challenge the what-if thoughts. I bet jade was over the moon
Awwwww....i can only imagine the delight on Jades little face and the warmth you must of felt in your heart when you met her from school. I think that must be one of the best rewards for overcoming any fear! and i feel sure that its that feeling that will make you wanna do it all over again. You did so well carol! *huge huggles*
Well I managed Wednesday,Thursday I took her but panicked when it was time to pick her up and had to have my brother-in-law do it, Then today I took her had a panic filled horrible day BUT..I picked her up with my sis-in-law I drove but she came with kinda like a safety net incase I couldnt manage all the way. XXX's Carol
Hun this truly is great news, & let me tell you that even though the last couple of days you had someone with you, a week ago you couldn't have managed to be there at all so you're doing SUPERBLY & I'm sure that as everyone has already said Jade must be over the moon to have her mum their for school You're a strong woman & you must be so ecstatic with yourself at your own accomplishments, you must feel like & you do hun You Rule Big Time All my love & hugs xxx
Well done that is something you should be proud of, and dont feel bad about having little hiccups during making a major achievment because its just normal and you learn from them. I really enjoyed reading your achievment WAHEY!
Aawww that is really fantastic It was a mega achievement, and a huge first step, it is something you can deffinatly build on As other peeps have said, Jade must have been so happy when you took her to school and picked her up, i bet she's really proud of you too love and hugs, moosey xxx
((((Carol)))) WAY TO GO!!!!! You did it again!!!!! I bet Jade is thrilled!!!! Keep it up!!!!!!!!!!!!!!! (((Hugs))) Colleen
doing it twice is brilliant carol. That's a great sign of progress, whether you panic whilst you're doing it or not. Maybe you're on to something with the safety net - is it possible to arrange someone to wait for you or go with you but stay in the background on those days you feel panicky, like a regular thing?
~~~~~~~~~~~~~~***~~~~~~~~~~~~~~~

Make new cards from old card


What will I need?
CardEmbellishments & stickers (optional)



You can recylcle old greetings cards to make new ones by cutting out the pictures and then comeing up with your own designs.


Here are 2 cards i've made:

1. This was the origional card

I cut out all the the pictures, and then used the two sea-themed ones to make a new card, a fish and a boat.


Change 1 - The shape and size of the card.
Change 2 - The colour of the card, from blue to cream.
Change 3 - I only used 2 of the pictures instead the origional 10.


This is the new card
2. The original card


Change 1 - The shape and size of the card.
Change 2 - The colour of the card, from purple to cream.
Change 3 - I only used one of the pictures instead of the origional
3.
Change 4- I used some funky foam to make a pair of flip flops.
This is the new card
You can see how different you can make your new cards even though you are using old greetings cards. Aswel as being able to let your creative juiced flow, you are also being enviromentally friendly because you are recyling and you are also saving money!
~~~~~~~~~~~~~*~~~~~~~~~~~~~~
Time for that Medical Test EVERYONE should enjoy taking. It wont take long, and The Nest assures you it does make you come over all cute & daft!
Stare at the cats eyes for 10 seconds...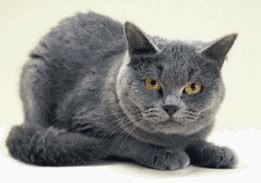 Now stare at the puppies for 5 seconds...

THANK YOU!
Your CAT SCAN

and LAB Tests

are now

COMPLETE!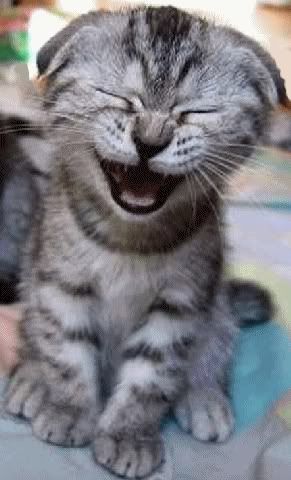 And heres one of the nests members results!:
Carol26 Posted: Tue Feb 27, 2007 2:46 pm
--------------------------------------------------------------------------------
I did it too!!! So cute though! XXX's Carol P.S. When do I get my results back Debs?
Cloudwalking Posted: Wed Feb 28, 2007 12:20 am

its just coming thru on the fax so you can have your results right now carol!

the cat said you are a beautiful woman who is healthy & strong! you must drink more water tho, in order to water your pretty soul and to wash any worries out of your mind.

The labrador puppies reported back that you must take at least one day a week to have time on your own in order to pamper yourself! they suggested you paint your nails (toenails too!) whilst listening to some relaxing music. they also advised you that jeremy must gently stroke your forearm to help relax you, in candle light.
LOL!
~~~~~~~~~~~~~~~*~~~~~~~~~~~~~~~~~~~
Emotional Support Animals


"Dogs that provide companionship, relief from loneliness & depression, and similar support can be allowed in housing (even "No Pet" housing) without the requirement of a pet deposit. Those dogs are called "Emotional Support Animals", but they don't have access to public places, either."
"a psychiatric service dog might bring patients their medication or lead them to a safe place when they are having a panic attack"



A few members never knew these type of dogs existed. We are loving the fact that even landlords and estate agents that state No Pets Allowed, is over written if you are in need of such a clever dog!

BBM brought this great info to the nest on another post. (thanks scott ;-) )

more info can be found here:
and here:


Shamrock Cookies for St. Patricks!
Creatively decorate these buttery cookie shamrocks for a special St. Patrick's day treat. I would use green icing and green sprinkles.
Preparation 45 min.
Baking 7 min.
Chilling 2 hrs.
Cooling 15 min.
Standing 6 hrs.
Cookie Ingredients: * 1 cup LAND O LAKES® Butter, softened * 1 (3-ounce) package cream cheese, softened * 3/4 cup sugar * 1 egg * 1 teaspoon vanilla * 3 cups all-purpose flour Glaze Ingredients: * 2 1/2 cups powdered sugar * 2 tablespoons water * 1 tablespoon LAND O LAKES® Butter, softened * 1 tablespoon light corn syrup * 1/2 teaspoon vanilla or almond extract, if desired * Food color, if desired * Decorator candies, sugars, etc.
if desired Instructions: Combine all cookie ingredients except flour in large mixer bowl. Beat at medium speed, scraping bowl often, until creamy (3 to 4 minutes). Reduce speed to low; add flour. Beat until well mixed (2 to 3 minutes). Divide dough in half; wrap each half in plastic food wrap. Refrigerate until firm (at least 2 hours).
Heat oven to 375°F. Roll out dough on lightly floured surface, one-half at a time (keeping remaining dough refrigerated), to 1/4-inch thickness. Cut with 2 1/2-inch cookie cutter. Place 1 inch apart onto ungreased cookie sheets. Bake for 7 to 10 minutes or until edges are very lightly browned. Cool completely.
Combine powdered sugar, water, 1 tablespoon butter, corn syrup and 1/2 teaspoon vanilla in small mixer bowl; beat at medium speed until powdered sugar is moistened (1 minute). Continue beating until mixture is smooth, adding additional water if necessary, to reach desired glazing consistency. Tint with food color, if desired. Glaze cooled cookies.
Add decorator candies, if desired. Let stand until glaze hardens (6 hours or overnight).
Ingredient Substitution Index Yield:
3 1/2 dozen cookies Nutrition Facts (1 cookie) Calories: 120 Fat: 5 g Cholesterol: 20 mg Sodium: 45 mg Carbohydrates: 17 g Dietary Fiber: 0 g Protein: 1 g
11679 Copyright © 2001 Land O'Lakes, Inc. © 2006 Land O'Lakes, Inc.
~~~~~~~~~~~~~~~~~~~*~~~~~~~~~~~~~~~~~~~~